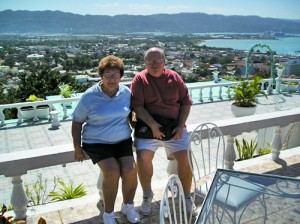 People entering into an online business are often wary of selling a product that is offered by many other sites, but Judee and Terry Kouba are proof that a sound business plan, dedication, and smart marketing can yield sales even in a high competition market.
Husband and wife Judee and Terry Kouba are the cofounders of www.Exclusive-Barware.com, a website providing many different kinds of glasses, coasters, and general barware.
"After we did some initial research, we found there were lots of sites that offered barware," said Terry. "But there were still unique opportunities in this field. We decided to offer a good range of barware in order to help our customers find what they need."
"Plus, this isn't stuff you can find in just any store," continued Judee. "We offer really unique items."
That collection of unique items includes a comprehensive selection of barware products. In addition to standard glass stemware and cocktail glasses, the site is also outfitted with accessories such as coasters, decanters, wine racks, and more. Coupled with these traditional barware items, the site also deals in less conventional products such as sake sets and absinthe fountains.

But even with this interesting and unique product base, the Koubas still found they needed help setting their website apart from all the other barware businesses. Deciding to seek the help of marketing companies, initial results were lackluster.
"We tried other marketing companies, and all they did for us were directory submissions," said Terry. "We weren't getting anything from it."
"The only sales we had were from friends and relatives that we had told about the site," added Judee.
Hoping to expand their clientele beyond friends and family and unimpressed with the efforts of other marketing companies, the Koubas decided to give iePlexus a chance to apply their particular brand of marketing efforts.
"When we first heard about iePlexus, we thought, okay, let's give it a try," said Judee. "And ever since signing up, we've had orders. It's been a great experience."
Not only did the Koubas immediately see a difference in results, but they also saw a difference in business practice and mentality. While other marketing companies mentioned what work needed to be done, iePlexus took the time to actually walk through these processes step by step.
"Other companies said, 'You need to blog.' But they left it at that," said Terry. "They just left it up to us. iePlexus actually helped us through this process. They set up our blog, www.AboutBarware.com, and they trained us on how to post."
Where other marketing companies seemed to offer one or two services, the Koubas were pleased to find that iePlexus offered a more comprehensive package. Signing up in July 2008 with the Web 2.0 Plus Program, their business was not only outfitted with a blog, but they were also provided with a press release, social bookmarking, monthly blog posts, and more.
"We were happy to be set up and trained with our blog," said Terry. "And the fact that iePlexus also does the directory submissions is an added bonus."
iePlexus' packages are a targeted combination of marketing tactics designed to increase traffic to any given business. And that's exactly what Exclusive-Barware.com has experienced.
"With Google analytics and other programs, we can see that visits to the site have picked up," said Terry. "We have a broad range of visitors now."
But increased page views are not the ultimate goal of any web based business. Rather, owners want to see a conversion of visits to sales. And for Exclusive-Barware.com, this increased traffic has definitely resulted in concrete sales.
"We saw a 75 to 80% increase in sales over one year," said Terry. "And Christmas sales were particularly high."
In addition to sales, the Koubas have also benefited from the continued support of iePlexus.
"Being new to blogging, sometimes we get stuck. But when we need assistance, iePlexus has always been helpful," said Terry. "They've been really good about answering our questions, and we're impressed with the level of customer service they've provided."
The road to online exposure hasn't been easy for Exclusive-Barware.com, but now that they've found a plan that works for their business, the Koubas are only looking to set bigger and better goals for themselves. Keeping vigilant with their blogging and marketing efforts, the Koubas will continue to improve their site, revising and refining their inventory as necessary. And they look to accomplish these goals with the help of iePlexus.